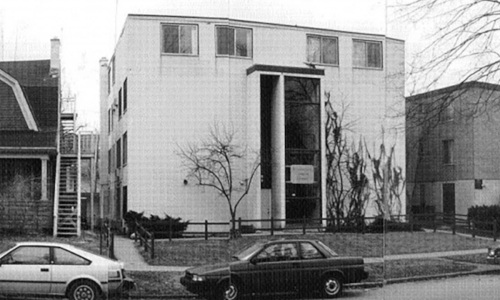 International House Ann Arbor in 1980′
International House Ann Arbor has served international students since 1888, reflecting a century-long mission to promote intercultural understanding and peace. Today, IHAA welcomes international and US students and scholars.
The first students from China to attend the University of Michigan arrived in the late 1880s during a time of widespread anti-immigrant sentiment. The Chinese Exclusion Act had been passed by Congress a couple of years earlier and the Supreme Court Case, Plessy vs. Ferguson, made segregation the law of the land. Even so, ecumenical cooperation slowly increased on campus throughout the early 1900s. By the 1930s, the University of Michigan hosted one of the largest international student communities in the nation, which resulted in the establishment of the International Center in 1938. 
A second influx of international students following WWII, led to the establishment of the Protestant Foundation for International Students in 1953. The Hospitality Program emerged expanding opportunities for international students to engage with American host families. And in the spirit of promoting intercultural respect and creating a "home away from home" for international students, special attention was given to students from China, Korea, Japan, the Middle East, Africa, and other places that were experiencing profound political changes. As international presence on campus increased, so did the need to develop the residential program. 
PFIS became the Ecumenical Campus Center in 1961, through which the resident community expanded programs promoting counseling, study, and social activity. On April 30, 1982, fifty Washtenaw County families hosted visiting scholars from the People's Republic of China. As pointed out by The Ann Arbor News, families hosted these international students in order to "reach out to others from halfway around the world and make them neighbors." Even in 1982, the Ecumenical Campus Center (ECC) was reaching out to international students through the International Hospitality and Educational Program in order to pursue a mission of intercultural learning and peace-building. 
Cultural trips and educational programs were established throughout the 1980s. The name Ecumenical Center and International Residence (ECIR) was adopted in 2000 after merging  the Ecumenical Campus Center with Ecumenical Association for International Understanding. In 2018, ECIR was given a new name, the International House Ann Arbor (IHAA). Throughout these name changes, the mission has remained the same.